COVID-19 Coronavirus
We stock ALL vaccines (NovaVax, Pfizer adult & paediatric, and Astra-Zeneca)
Our advice and protocols are based on best medical evidence ATAGI guidelines. Risks associated with COVID-19 disease far exceed risks from vaccination. We recommend vaccination with the appropriate vaccine for all eligible people. More details from Department of Health. and from our registrar, Dr Hassan, below.
STEP 1: You first need to check your eligibility for the coronavirus vaccine through the Eligibility Checker
STEP 2: If you are eligible, you can now Make Your Bookings, at least for the first jab. It is best to make bookings for BOTH DOSES at the same time but we will book you into the second one as needed.

Once you've had the vaccine, if you think you may be experiencing side-effects you can check here: Side-Effect Checker
What is the latest ATAGI / Victorian Health Dept advice?

The Australian Technical Advisory Group on Immunisation (ATAGI) recommends COVID-19 vaccination for all people aged 5 years and above to protect them against COVID-19. A primary vaccination course consists of 2 doses.
A third primary dose is recommended for people with severe immunocompromise. See considerations for special populations: people who are immunocompromised.
What are the booster dose recommendations?

A single COVID-19 vaccine booster dose is recommended for people aged ≥18 years who completed their primary COVID-19 vaccine course 4 or more months ago.
Pfizer or Moderna COVID-19 vaccines are the preferred vaccine for this booster dose, regardless of which vaccine was used for the primary course. Although not preferred, AstraZeneca can also be used as a booster dose for:
• people who have received AstraZeneca for their first 2 doses if there are no contraindications or precautions for use
• if a significant adverse reaction has occurred after a previous mRNA vaccine dose which contraindicates further doses of mRNA vaccine (e.g., anaphylaxis, myocarditis).
Can I have priority eligibility?

Health workers and some other groups are a priority for vaccination. Check your eligibility
I am under 60, and I am fully vaccinated with AstraZeneca, do I have to get Pfizer now?

If you have received both doses of the vaccine you do not need to get vaccinated with any other COVID-19 vaccine.
Who can get vaccinated against COVID-19?

This information changes regularly so it is best to visit the Victorian Government website Information about the phases of rollout of the COVID-19 vaccines.
What if I'm pregnant or breast-feeding?

Pregnant women with COVID-19 disease have a higher risk of certain complications. mRNA vaccines have been shown to be safe in pregnant women, based on accumulated real-world evidence from other countries. For more details, see the Decision guide to COVID-19 vaccination for women who are pregnant, breastfeeding or planning pregnancy.
What if I have a disability?

You should be vaccinated against COVID-19. You can get click Information about COVID-19 vaccines for people with disability.
I have caught COVID-19 or recovered from COVID-19

Information about managing COVID-19 at home with assistance from your general practice, as well as dealing with post-covid problems is available from RACGP COVID-19 resources
My child aged 5 to 11 needs COVID-19 vaccination

The Information and consent form for parents and guardians of children aged 5 to 11 years can be downloaded in several languages via this site or English PDF download here.
Will I need more boosters?

Additional or booster doses beyond the two-dose + booster course are not currently recommended.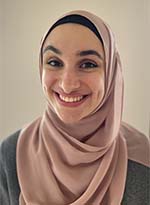 from our registrar, Dr Mariam Hassan:
(Local GP and resident of The Basin)
I work at a local GP clinic that has reached the exciting milestone of delivering over 7000 vaccines over the last few months. Our community should be congratulated for this monumental effort.
Working as a local GP, I have dozens of conversations about COVID vaccines every day. While most people have already been vaccinated or are awaiting an appointment, some are still unsure. I understand the concerns people may have. In this 'Information Age', it can be so difficult to sift through the onslaught of information and know what to believe. There is nothing wrong with asking questions, wanting to choose the safest option for yourself and your family and wanting to make an informed decision. In fact, we encourage this. But it is important to make sure your decision is based on accurate information from reputable sources. Here are some of the common concerns I hear regarding the vaccines:
Are they safe? How do we know they won't have long term side effects?

Both COVID vaccines available in Australia, Pfizer and AstraZeneca are extremely safe. There have been almost 10 million doses of each administered across Australia, with over 5 billion COVID-19 vaccines administered worldwide.

They have been through all the regular, rigorous testing protocols and passed all necessary phases of clinical trials. With over 5 billion doses administered worldwide, we have huge pools of data spanning over one year that attest to their safety - much greater than most other vaccines.

Our immune system works very quickly. As such, any side effects that you would expect from a vaccine, you would expect to happen quickly, mostly within the first few days, and at least within the first 2-3 months. It is not only implausible for there to be unknown long term side effects, it would be highly unprecedented. Long term safety data from other vaccines that have been around for decades have shown that all significant side effects occur within the first 2-3 months of vaccine administration.
mRNA vaccines are a new technology

There are some concerns about mRNA vaccines (Pfizer) being a new technology. mRNA is naturally found in every cell in our body. mRNA from the vaccine actually degrades within 10-48 hours of being administered into our bodies, after it's done its job of telling our bodies to create the COVID-19 spike protein. Our bodies then mount an immune response to that protein. It does not alter our DNA. In fact, mRNA does not even enter the nucleus where DNA is stored. It is safe, effective and researchers have been studying mRNA vaccines for decades for other viruses including influenza, Zika, rabies, and cytomegalovirus (CMV).
What about the side effects?

While there are some extremely rare side effects with the vaccines, it is important to remember that those reactions are actually significantly more likely if you contracted COVID. The rate of myocarditis is four times higher in people who have COVID compared to the Pfizer vaccine. The rate of serious blood clots are almost 200 times more likely in people who have COVID compared with the AstraZeneca vaccine. In fact, it's highly likely that those who unfortunately suffered extremely rare side effects from the vaccine would have had a similar reaction to COVID, as their immune system would have responded in a similar way. Nothing in life is completely risk free. We might get anaphylaxis from eating an egg or peanut butter sandwich. That doesn't mean those things are inherently unsafe, it just means our bodies had a rare, exaggerated response to a safe substance.
Are they safe in pregnancy?

Yes, the Pfizer vaccine is safe and strongly encouraged during pregnancy. Pregnant women who contract COVID are much more likely to have severe disease and significant complications. Pregnant women with COVID are 5 times more likely to need admission to hospital, 2-3 times more likely to end up in ICU, 1.5 times more likely to have a preterm delivery, twice as likely to have a stillborn, and 3 times more likely to have their baby admitted to the special care nursery.

The vaccines are safe and protect against these risks. There have been over 200,000 pregnant women internationally who have been vaccinated with no safety concerns for mum or baby. In fact, pregnant women are less likely to get common side effects (like fever) compared to non-pregnant women. Vaccination during pregnancy has the added benefit of antibodies crossing the placenta, protecting the baby. Vaccines do not increase pregnancy complications. COVID infection does – significantly. And getting vaccinated is the best thing pregnant women can do to reduce this risk and protect themselves and their babies.
Do they cause infertility?

I've also had some young women quite concerned about the risk of infertility. COVID-19 vaccines do not cause infertility. This myth originated by someone who postulated that the COVID spike protein and a protein involved in placenta development (Syncytin-1 protein) are the same. They are not the same protein. This theory is false, completely unfounded and has no basis or evidence whatsoever. As we mentioned, our immune system acts fast, so any side effects should become apparent within the first 6 minutes to 6 weeks. Infertility is not a side effect of ANY vaccine.
Long COVID

Instead of being concerned about a theoretical risk of long term side effects from the COVID vaccine, we should all be concerned about the real and documented long term risks of contracting COVID. 'Long COVID' affects 10-20% of those who have had COVID and can cause chronic fatigue, long term respiratory damage and 'brain fog'. It is estimated that nearly one million people are currently living with long COVID in the UK, and 40% of them have been dealing with the condition for over one year, many battling chronic fatigue, poor concentration and laboured breathing that is significantly impacting their quality of life.

Ultimately, everyone should weigh up the risk vs benefits for themselves. But with the Delta variant sweeping through Victoria rapidly, please know that the risks of COVID are real, long lasting and potentially deadly.
Are they effective?

Yes, the COVID vaccines are extremely effective. Both the AstraZeneca and Pfizer vaccines reduce the risk of serious illness causing hospitalisation and death by 90-95%. In Victoria currently (at the time of writing) there are 111 people in hospital and none of them have been double vaccinated. The vaccines are also effective at reducing transmission by 40-60%. While it is not perfect, it still significantly reduces your chances of catching COVID and spreading it to your loved ones.

At the end of the day, once restrictions ease and things open up, it's likely that we all will be exposed to COVID. Ultimately, our choice is if we want to be exposed to COVID vaccinated, with a 90-95% reduced rate of severe illness causing hospitalisation or death. Or unvaccinated, with a death rate of 1 in 70 in Australia,10-15% chance of hospitalisation, risk of severe disease with rapid deterioration (even in young people) and risk of long COVID.

The vaccines are safe and highly effective. If you are unsure about the vaccine, I strongly encourage you to speak to your GP. We understand that you have questions and encourage you to seek out the answers from the right sources. We hear your concerns. We are here to listen.
Information about preparing for the vaccination and possible adverse events is available from the following sources:
If you suspect you may have the coronavirus disease (COVID-19), please call the dedicated hotline on 1800 675 398, or us. Keep Triple Zero (000) for emergencies only.
Please follow the Government directives.
In accordance with Australian Public Health advice, Colchester & Knoxfield Medical Centres ask that any individuals who begin experiencing respiratory symptoms (fever, cough, difficulty breathing) and have recently travelled or had contact with someone diagnosed with the novel coronavirus within the last 14 days should attend the local fever / COVID clinic to keep us and other patients safe.
If you need a test, we will provide pathology referral form. Call us for a telehealth consultation to decide if this is appropriate. Details of laboratories are further on this page, including pre-travel testing.
If in any doubt, please call the medical centre before arrival so that the appropriate infection control measures can be put in place if needed or a phone or video consultation arranged.
COVID-19 Signs & Symptoms
The most common symptoms of COVID-19 are:
fever
flu-like symptoms such as coughing, sore throat & fatigue
shortness of breath
Not everyone who has symptoms like these has COVID-19 as there are several other illnesses that can cause these symptoms.
Higher Risk Populations
Some people at at higher risk for developing serious illness from COVID-19 including:
older people
those with underlying medical problems including high blood pressure, heart problems, diabetes, respiratory disease or immune deficiencies (low immunity>
Aboriginal and Torres Strait Islander people experience higher rates of chronic diseases compared to other Australians and may be at higher risk of serious illness.
Of course, anybody can be infected. COVID-19 does not discriminate between race nor gender therefore we are ALL at risk of infection. 80% will have mild disease, 15% will have significant disease, while 5% will develop serious illness, ending up in hospital. Some will die.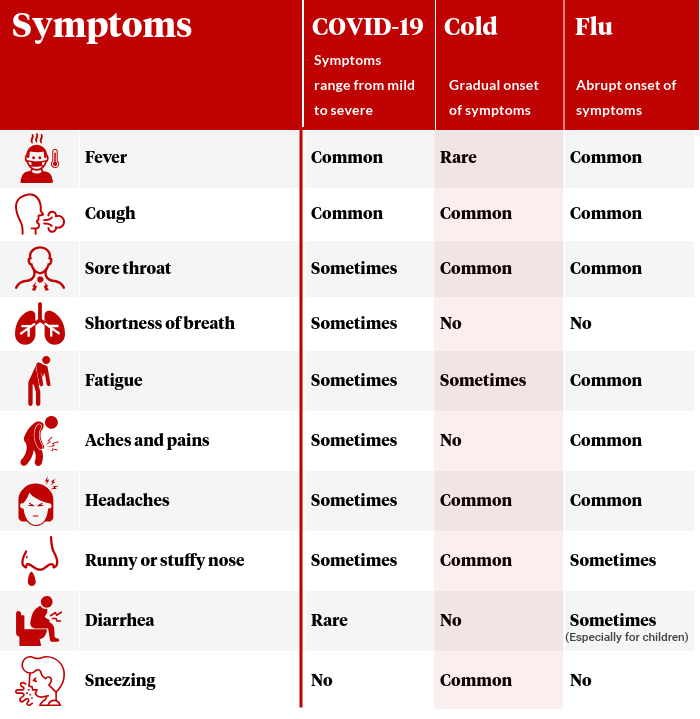 Cold VS Influenza VS Corona symptoms
Not sure if it's just a cold or the flu or Covid-19? Call us first, don't just come. However, if you have breathing difficulties, call an ambulance.