Medical Alert: Wuhan COVID-19 Coronavirus
If you suspect you may have the coronavirus disease (COVID-19), please call the dedicated hotline on 1800 675 398.
Please keep Triple Zero (000) for emergencies only.
You should stay at home unless going to medical appointments or performing essential tasks.
In accordance with Australian Public Health advice, Colchester & Knoxfield Medical Centres ask that any individuals who begin experiencing respiratory symptoms (fever, cough, difficulty breathing) and have recently travelled or had contact with someone diagnosed with the novel coronavirus within the last 14 days should attend the local fever / COVID clinic. EVERYONE should call the medical centre before arrival so that the appropriate infection control measures can be put in place if needed or a phone or video consultation arranged.

If possible we advise travelling with a mask on.

This coordination between providers, hospitals, and public health is critical for our continued effort to best respond to and reduce transmission.

This is a rapidly changing situation both abroad and domestically, and we are still learning. Let's remember this virus is identified quite recently and there is much we don't know yet.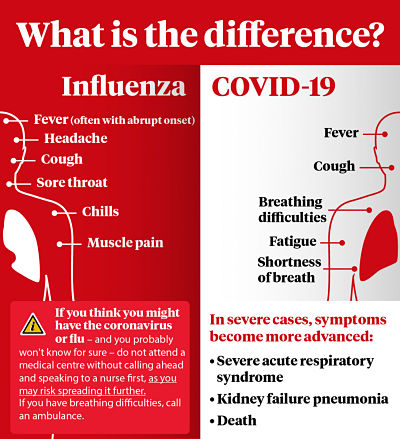 Influenza VS Corona symptoms
Not sure if it's the flu or Covid-19? Call us first, don't just turn up. However, if you have breathing difficulties, call an ambulance.

Where can I get more information?

Visit the Victorian Coronavirus page at www.dhhs.vic.gov.au/coronavirus

If you suspect you could have Coronavirus, call the dedicated hotline on 1800 675 398.
For information, call the Public Health Information Line on 1800 004 599.

Alternatively, you can contact your state or territory public health agency:
ACT call 02 5124 9213 during business hours or (02) 9962 4155 after hours
NSW call 1300 066 055
NT call 08 8922 8044
Qld call 13HEALTH (13 43 25 84)
SA call 1300 232 272
Tas call 1800 671 738
Vic call 1300 651 160
WA visit https://www.healthywa.wa.gov.au/ or call your local public health unit